There is a calendar on the desk in my writing office with a saying for each day of the year.  Its theme is "Words That Warm the Heart" Quotes by Women for Women.  Some are from scripture, some from literature, and each one is sweet and inspirational.  I enjoy reading them before I start my writing for the day.  The sentiments are presented in purple script on four inch by four inch pages of cream colored paper all held together by a purple spiral.  Today I felt my Mother speaking to me through the quotes of the day.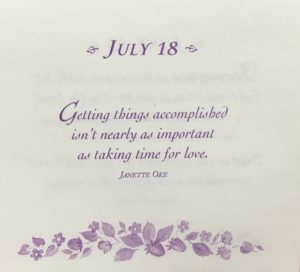 Ed and I had been away for the weekend.  We stayed at a lovely Bed and Breakfast in Canandaigua, less than an hour's drive (at our pace) from Rochester but a world away from everyday rigors, cares, schedules and responsibilities. Even in retirement we create a "busy" life.  The Bella Rose, operated by Jill and Rob Myers, whose daughter Tessa is a friend of our granddaughter Helen, was beautiful and perfectly maintained both inside and out; and our hosts provided every pampering comfort imaginable.
There were two other couples staying the weekend and we enjoyed their company and conversation at breakfast each morning along with the superb meals.  On Saturday we took a leisurely ride through the countryside to the Windmill (Amish Market) in Penn Yann and an unhurried stroll among the stalls of artisans, crafters, and vendors.  We managed to control our instincts to buy something and just enjoyed the sights and smells and then treated ourselves to some fresh made mini donuts sprinkled with cinnamon and sugar.
 We returned to the B&B and took a nap.  We even missed our early dinner reservations at the Culinary Institute.  Fear not, we had a seafood dinner at The Schooner restaurant that made us feel as though we were at the Jersey Shore—almost.  That night we saw Yanni in concert at C-MAC (the outdoor Performing Arts Center).  The weather was perfect and we enjoyed the performance.  The weekend was thoroughly relaxing and we enjoyed spending the time together.  However, in the back of my mind I kept thinking, "I should be writing."
This morning when I sat down at my desk, I checked the motivational sayings for the days I had missed.  Saturday's quote was "The giving of love is an education in itself" (Eleanor Roosevelt); Sunday's was "Faith is what makes life bearable, with all its tragedies and ambiguities and sudden, startling joys."  (Madeleine L'Engle); and today's was "Getting things accomplished isn't nearly as important as taking time for love." (Janette Oke).
As you know, I started my writing commitment with the intention of writing the story of my Father's life, motivated by the book published about his killer's evil career.  It then turned into the history of my parents' loving and enduring relationship even after his tragic death.  You may also know that Ed and I shared my parents' wedding anniversary (Nov 5) and were married in the same church twenty-two years later.
 Every year we included my Mom in our celebration of that happy event—dinner, sometimes a show, flowers, a card, always a phone call.  And every time I spoke with my Mother on the phone, after a brief update of our welfare and activities, she would ask how Ed was and what he was doing.  Usually it was just reading the paper or watching TV.  Mom would then hastily bring the conversation to an end saying, "Go sit with him, hold hands, be together, give him a kiss.  I would give the world to have just one more time to do that with Daddy."  We'd then quickly terminate the call, and I would do as my Mother told me.
So the messages on my calendar sounded like my Mother admonishing me once again to enjoy each moment I have with my husband, to cherish each blessed day.  She was denied that opportunity because Dad's life was ended so abruptly.  Ed's parents also died very early—his father tragically when Ed was ten and his mother from a prolonged illness when he was fifteen.  They had been married just sixteen years and left three children who were taken in and cared for by relatives.  That's another love story.
Ed and I have the mandate to carry on the love our parents passed on to us but did not have the chance to experience themselves in this world.  We're trying but sometimes I need a reminder as to what is most important.
Spending Time Together
Spending time together is never a waste;
It's to be enjoyed at leisure and not in haste.
Sitting in silence side by side
Is an intimate pleasure that can't be denied.
Listening to music or watching TV,
Next to each other is where we should be.
Each tender kiss, each gentle caress
Makes my heart soar with happiness.
I bask in the sunshine of your smiling face
And rest in the comfort of your embrace.
Through the years we've shared both tears and laughter
And now look forward to forever after.
Take my hand, my heart, my love
As we cherish this blessing from above.
Estelle O'Connell (2016)