THERE IS NO TREATMENT.   THERE IS NO CURE.   IT WILL GET WORSE.
The words pounded like a gavel pronouncing sentence.  My voice was mute but a silent scream echoed in my ears.  NO! – NO! – NO!
We are not ones to sit idly by and meekly accept defeat.  We face up to challenges; seek solutions to problems; fix whatever is broken.  Our mantras are:  "Failure is impossible." (Susan B. Anthony) and "Never, never, never give up." (Winston Churchill).  We read, we researched, we studied, we gathered information; and still the prognosis was the same:  no treatment; no cure; don't expect improvement—live with it.
A few years ago Ed experienced some lapses of memory and incidents of confusion.  At first we jokingly referred to them as senior moments, but he found them troublesome, so we mentioned the situation at the next appointment with his doctor, who suggested an MRI.  When results showed no physical cause, he referred Ed to the Memory Center to determine the extent of the problem.  Tests and evaluation showed there was Mild Cognitive Impairment (MCI).
We learned that the condition was a form of dementia that could, but not necessarily would, lead to Alzheimer's or some other form of brain disease.  We were determined not to let that happen.  So we joined support groups and searched for methods to prevent the decline;  subscribed to Lumosity; did word and number games and cross word puzzles; attended classes at Osher Life Long Learning Institute (two classes three times a week) to keep his mind active; attended plays and concerts and went to dinner with friends to keep up our social contacts.
We accepted our new normal and worked our plan.  Life was good and we lived to enjoy every day to its fullest.  Then came October 28th.  Ed seemed unaware of things on his left side and confused with simple instructions.  After consulting our daughter the doctor and calling Ed's primary care physician (Saturday morning, we reached the answering service),  our son took us to Urgent Care where Ed was evaluated and  suspected to have had a stroke.  We were instructed to go "directly" and "immediately" to Highland Hospital for further assessment.  We laughingly said it sounded like "Go directly to Jail, Do not Pass Go, Do Not Collect $200."  At the hospital, the suspicion was confirmed:  the diagnosis was a "significant clot in the right side of the brain," and he was admitted for treatment.
Ed received wonderful care and attention from all of the providers and technicians, and we were relieved to learn that there was no apparent physical damage.  However, his already diminishing cognitive abilities were further compromised, and we didn't know how much further they would be affected.
After three days Ed was discharged from the hospital, and home care was provided by a nurse, a physical therapist, and an occupational/speech therapist for three weeks.  He was then discharged to outpatient therapy.   He was also examined by a neurologist and further tests were conducted.  Although there are no significant physical limitations, cognitive issues continue to be an issue.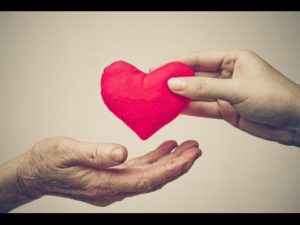 So why a title of "The Gift"?  When my father was killed my mother lost the love of her life in a horrific, heartbreaking instant.  There was no time to say good bye, to share a final kiss, embrace or term of endearment.
I've heard some people say they hate long good byes, but I am grateful for the opportunity to fulfill my wedding vows to "love honor and cherish in sickness and in health, in good times and in bad."   We have a heightened awareness and appreciation of the time we have together.  Every moment is special, every day an event.
The daily quote on my desk calendar recently was:  See each morning a world made anew, as if it were the morning of the very first day…treasure and use it as if it were the final hour of the very last day.  (Fay Hartzell Arnold)
We are going forward with the realization that our days may be limited, but the beauty, love and joy of each day need not be.  Despite the challenges, we are grateful for THE GIFT OF A LONG GOODBYE.